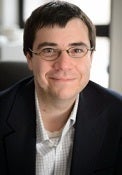 Pitt Cyber Announces New Research and Academic Director
The University of Pittsburgh Institute for Cyber Law, Policy, and Security (Pitt Cyber) announced today that Professor Michael Colaresi will serve as the Institute's research and academic director.
Colaresi is the William S. Dietrich II Chair of Political Science and a Pitt Cyber Affiliate Scholar. In his new role as Pitt Cyber's research and academic director, Colaresi will lead engagement with stakeholders in the university academic community and develop cross-disciplinary research programs with Pitt Cyber affiliate scholars.
Colaresi succeeds Professor of Law Michael Madison, who served the institute's first academic director, following the conclusion of Madison's appointment. Professor Madison remains a senior scholar of Pitt Cyber.
"I'm very pleased to have Mike Colaresi as our new research and academic director," said David Hickton, Pitt Cyber's founding director. "His distinguished record of scholarship and commitment to thoughtful, effective cyber-related work across disciplines will further strengthen Pitt Cyber, building on Mike Madison's exceptional tenure."
"I'm excited to be part of the Pitt Cyber team, said Michael Colaresi. "Pitt Cyber's transdisciplinary approach to cyber research has more salience now than ever. We have an extraordinary breadth and depth of cyber-related scholarship here at the University of Pittsburgh. Pitt Cyber provides an important opportunity to foster and amplify that work."
About Michael Colaresi
Michael Colaresi is the William S. Dietrich II Chair of Political Science. His work leverages the accelerating availability of computational tools, including machine learning and Bayesian approaches, along with unstructured information, such as from digitized text, to build and improve models of national security secrecy and oversight, international and intrastate violence, and changes in human rights over time. He also develops computational and visual tools that enable domain specialists to work alongside computer scientists to improve specific applications.
Colaresi was co-editor of the journal International Interactions from 2014-2019 and was co-recipient of the Best Visualization Award from the Journal of Peace Research in 2017 and the Gosnell Prize for Excellence in Political Methodology from the Methodology section of the American Political Science Association in 2006. He has been PI or co-PI on four NSF grants and is a research affiliate for the ERC-funded Violence Early Warning Project at the University of Uppsala. His most recent book, Democracy Declassified: The Secrecy Dilemma in National Security (Oxford University Press), explores the effectiveness of legislative oversight, freedom of information laws and the press in resolving the inherent contradiction between domestic accountability and private information in liberal states. Democracy Declassified was shortlisted for the 2015 Conflict Research Society book prize.  In his previous position at Michigan State University, he founded and directed the Social Science Data Analytics initiative.